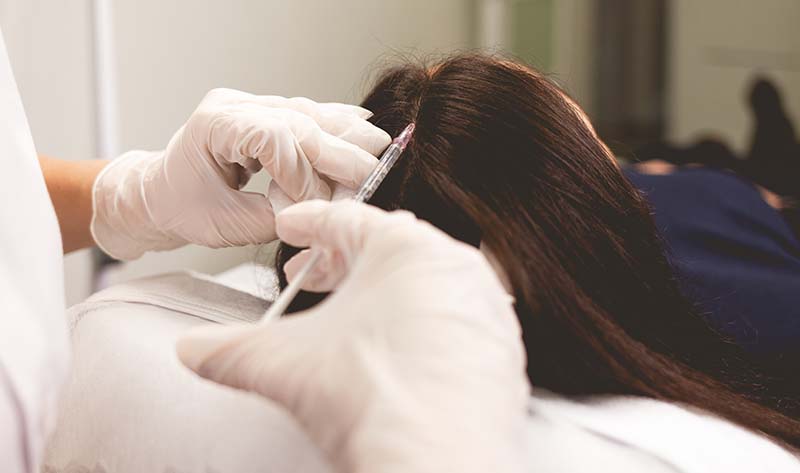 Why is BIO IPT better than FUE hair transplant?
For any individual who is planning to undergo hair transplant, the first question that comes to their mind is: Which is the best hair transplant technique?
A hair transplant technique must have:
Good density
Natural-looking results
No side effects.
Let us understand the types of hair transplant techniques that are available and why BIO IPT is considered to be the best in all of them. Following are the three types of techniques:
FUT: In this technique, an entire strip of skin is cut out from the back of the scalp. The scalp gets stitched, the strip is cut into small grafts and implanted into the balding area using forceps. Holes or slits are pre-made.
FUE: In this technique, individual grafts or follicular units are taken from the back of the head, one by one using an instrument called punch. Even in BIO IPT, the extraction technique is similar.
THEN, HOW IS IT BETTER?
FUE Extraction is performed with a dull motorized punch, which is quicker, but causes more scarring and chances of thinning out donor area is more. Motorized extraction is better for the clinic as it saves their time, but is definitely not good for the patient, as healing time is long with more scars.
BIO IPT Extraction is done with a manual sharp punch where the scarring is negligible, graft and skin damage is minimal as the procedure is slow and gentle. We use manual sharp punches from USA at Hair Treatment At Chandra Clinic. Manual punching with a sharp punch might be slower and more time consuming, but way more beneficial for the patient. The difference between FUE and BIO IPT Hair Transplant is similar to a factory printed cloth, and hand embroidered garment. The latter takes longer time, more hard work, but the result is absolutely beautiful.
FUE Implantation is done into pre-made slits or holes, into which the grafts are implanted using needle or forcep, which may cause graft damage and lower survival. The process of pushing grafts into holes by assistants is rough and grafts are very much prone to damage.
BIO IPT Implanting with IMPLANTER PENS (BIO-IPT) ensures 100% natural looking results and 100% graft survival since it is gentler than forcep implanting.
We provide the best Hair Treatment At Chandra Clinic. Generally, celebrities choose Implanter technique since it gives natural results.
As per the research, all the studies have proved that Implanter Pen technician is far more superior in providing:
Natural- looking hairline.
High graft survival
Perfectly smooth skin healing
Also, the team that performs hair transplant can be divided into 3 types:
A. Entire extraction and implantation done by the surgeon, while the team assists like in BIO IPT in our Clinic. This is the most expensive, since the surgeon devotes all his/her time.
B. Extraction done by the surgeon and implantation done by unskilled technicians, the experience of whom you do not know.
C Entire extraction and implantation done by technicians. The last one is the most risky, but is obviously the cheapest.
From the above pointers what is clear is that BIO IPT (FUE with sharp manual punch and implanters done by qualified Surgeons) is the best technique when planning to undergo hair transplant.
To know more about BIO IPT hair transplant, please feel free to visit us at our clinic.